PASL Game Status
If there is no cancellation message by 11:00 am on game day, then all games will be played as scheduled.
NCASA 2016 State Cup
The tournament will be held at BB&T Soccer Park, Winston-Salem.
Tournament dates are December 3rd and 4th.
DIVISIONS: 1st, Over 30,40,50,55 and Coed.
Tournament includes a Beer Garden, Food Trucks, and a Player social.
SAVE THE DATE!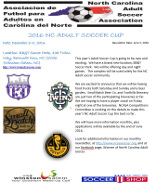 NC State Cup 2016
PASL was formed in the Fall of 1995 to provide adults over the age of thirty an opportunity to play organized soccer.
Since then it has evolved into a coed Over 30 and Over 40 league, as well as a Women's league.
We currently have a Spring and Fall season playing on Sunday afternoons.


In the off season we have Summer 6 v 6.
The Summer 6 V 6 is played on a week night and provides an opportunity to become aquainted with PASL and/or to sharpen your skills.
6 v 6 is played on a small field (40yd x 60yd) with small goals. The Summer league is designed to be less competitive and fun for all.
PASL Web Page - Mobile version

http://pasl.tripod.com/index.mobile.html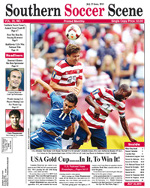 Southern Soccer Scene Web Page

NC Soccer Hall of Fame Web Page